Somatic Breathflow
Facilitator Training
Somatic Breathflow is a comprehensive breathing method resting on 40+ years of collaborative research in anatomy & psychology designed to transform our body tissues and inner awareness.
​
Moving beyond repetitive, mentally imposed, circular breathing practices, Breathflow engages the body's interconnected systems in a deeply relaxing and clinically proven way that transforms us from the inside out. We see breath as a full-body gesture which is rooted in visceral and subconscious structures that we can feel and know from within — transforming emotional and physical patterns through anatomy-informed and sustainable ways.
​
​
Breathflow connects the embodied somatic sensations awakened by the breathing gesture with shifts in the emotional, mental, and transpersonal space within us.
​
Rooted in psychology, transdisciplinary holistic education, and decades of anatomy research, Breathflow offers a practical way to awaken hidden parts of the body and psyche to integrate the conscious and subconscious elements of ourselves.
Experience breathing as a full-body gesture rooted in embodied anatomy
Through body-informed breath that transforms hidden patterns, we expand what is possible for us in our health, our relationships, and our life's vision.
The Three Pillars of Somatic Breathflow
ANATOMY RESEARCH AND APPLIED SOMATICS
SOMATIC DREAMTIME AND INTUITION
PEDAGOGY AND FACILITATION SKILLS
Breathing Kinetics

Fascia lines & connections

Rib Cage Mobility

Breath as a full-body gesture

The 50 ways to breathe

Somatic Awareness

Diaphragmatic & thoracic breath

Pelvis-Breath anatomy interplay

Subconscious Visceral Breath
Bridge body memory and emotional memory

Methodically access inner guidance with expanded breath

Break beyond old beliefs

Transform relationship patterns

Explore conscious and subconscious somatic breath

Learn to sense your intuition
Master the 4 layers of breath

Learn to lead powerful sessions from start to finish

Expand your repertoire with in-demand expertise

Guide safe & clinically proven exercises

Design themed workshops

Create your unique approach
The training extends over 6 weeks and is structured to contain self-study components and live online sessions with the lead teacher, allowing for a balance between independent study and group dynamics.
​
This intensive training consists of six weekend gatherings (Sundays 4-5 hours). During the week you will be guided to progress on your own through profound yet easily accessible practices that continue to build your somatic knowledge.
​
Daily exchange in our private group offers you support as you build your repertoire and confidence at your own rhythm. Together we share and reveal new layers of the practice.
​
During our live weekend sessions, we solidify our knowledge from the previous week and then advance into deeper layers of mastery. Our Montessori-inspired teaching method ensures that you feel supported in effective study even if you miss a live event.
​
Each week includes the following training elements:
​​
ORIGINAL SOMATIC BREATHFLOW EXERCISES


ANATOMY TUTORIALS REVEALING THE 4 LAYERS OF BREATH​


IMMERSIVE LIVE SESSION WITH YOUR LEAD TEACHER


SIGNATURE SOMATIC DREAMTIME PROTOCOLS TO JOURNEY INTO YOUR SUBCONSCIOUS


MODULES ON FACILITATION SKILLS & PEDAGOGY


EVOLVING LIVE CONTENT RESPONDING TO GROUP NEEDS AND INTERESTS


EXERCISES TO CONNECT WITH YOUR INTUITIVE SKILLS
AFTER THE ONLINE TRAINING, TEACHERS HAVE THE OPTION TO JOIN AN IN-PERSON GATHERING IN OUR PARTNER HUB IN BARCELONA TO ADVANCE TO THE NEXT LEVEL IN THEIR PRACTICE AND EXPERTISE.
ANATOMY RESEARCH & APPLIED SOMATICS
Ground your work in embodied anatomy & cutting-edge research
Somatic Breathflow® is rooted in 40+ years of collaborative research in anatomy, movement techniques, ​physiotherapy, fascia release, and clinical practice.
​
​
Learning Outcomes of Pillar 1:
​
Participants apply up-to-date research knowledge for practical anatomy exercises and discover the keys of the breathing apparatus. This is vital to understanding, explaining, and leading somatic awareness exercises through breath that respect and work with the complexity of the body. Breathing is experienced as a multi-dimensional and layered full-body gesture.
Anatomy & Somatics knowledge covered: ​
​
Rib cage strcuture & mobility

Inhaler & exhaler muscles

Forces of expansion & contraction

Active & passive breathing mechanisms

Organs & visceral pressures

Fascia lines and muscular chains

The diaphragm & the stress reflex

Links between somatics & every-day movements
SOMATIC DREAMTIME AND INTUITION
Access your subconscious world through patterns in the body
Somatic Breathflow® is based on research and clinical protocols in psychology, cognitive science, and dreamtime practices that help you access your subconscious through your body.
​
​
Learning Outcomes of Pillar 2:
​
Experience how transformation in the body opens up your ability to perceive, create, and manifest new realities. Immerse yourself in the ancestral practices of dreamtime journeying and reconnect your unique storyline to the collective subconscious. You will be guided to actively work with your inner world to rewrite old beliefs and create new future timelines.
Dreamtime knowledge covered:
​
Exploring the overlaps between psychology and dream journeying

Traveling across the conscious-subconscious-unconscious continuum

Calling in & recognizing synchronicities in daily life

Connecting with your intuitive innner compass

Creating a bigger space for emotions & relations
PEDAGOGY & FACILITATION SKILLS
Confidently create and lead sessions based on step-by-step protocols.
Learning Outcomes of Pillar 3:
​
Participants learn to prepare and lead sessions for groups and individuals through precise and safe protocols. We employ a step-by-step approach that is based on our school's original PhD research and decades of collective experience in clinical practice and facilitation. You will discover how to incorporate this methodology into your unique repertoire of skills, whether you are an established facilitator or you just starting out.
Pedagogy and facilitation knowledge covered:
​​
Key building blocks of a successful session

Creating and maintaining a safe container for transformation and emotional release

Leading a safe practice rooted in anatomy

Guiding others to awaken their intuition

Designing thematic workshops, group events, and one-on-one sessions

Working with our original library of anatomy illustrations + dreamtime protocols
Independent Worldwide Training Accreditation
YOUR LEAD FACILITATOR ON THIS JOURNEY
Dr. Andrea Traldi, PhD​
​
For the past 25 years, Dr. Andrea Traldi has investigated the relationship between movement, breath, and intuition. He is a lead researcher on the connection between sensorial awareness, anatomy, and cognitive science. As founder of the Institute of Applied Somatics®, he pioneers a method that is not only embodied and intuitive, but also rooted in proven clinical research.
Andrea is a kinesiologist, holds a Masters degree in psychology, and a PhD in somatic transdisciplinary research. He has decades of experience in leading others to access their inner worlds through their bodies.
​
His speciality lies in sharing clinical, result-based exercises that combine with intuitive dream journey protocols to unfold your unique creative vision, body wisdom, and manifesting power.
Guest teachers may include academics and leading specialists in fascia therapy, pelvic floor rehabilitation, voice and breath connection, psychology, nervous system health...
Our team's work has been featured in:
Embrace your inner wisdom through the power of embodied breath.
FREQUENTLY ASKED QUESTIONS
What's the difference between Somatic Breathflow and breathwork modalities?

.

I'm considering different breath trainings. Why makes Somatic Breathflow different?

.

What's the advantage of working with a modality based on anatomy?

.

What makes your approach to Somatics unique? How do you combine Somatics and Psychology?

Will this method allow me to create my own approach and practice?

I've seen other programs that run over months. How do I know I'll get the full experience in 6 weeks?

.

What if I cannot make the live sessions?

.
Beyond Breathwork and into Anatomy-based practice
Signature elements found exclusively in the Somatic Breathflow® trainings:
Research-based anatomy as the solid foundation for breathing practice: Move beyond energetic language and get into precise & felt body knowledge.
Exploring 50+ ways to breathe rooted in anatomy: no enforced repetition or cyclical breath, but a focus on vibrant somatic variety— all based on our bodies innate anatomical trajectories.
Detailed modules on fascia connective tissue and its layered relation to breathing somatics based on clinical practice.
PhD-backed and psychology-based protocols to guide groups and welcome emotional transformation.
Effective & purposefully structured: We know that longer course durations do not equal more knowledge. We focus on teaching you efficient, structured and research-based skills that yield results.
Professional resources to craft your own approach: we guide you to share your unique wisdom and trust your ideas <3
Knowing the difference:
Anatomy-inclusive vs. Anatomy-based
Our exercises are

rooted in decades of clinical research

in anatomy and physiotherapy to provide

absolute safety and extreme precision

in all our movement sequences.



Our original anatomy illustrations have been created

to guide the awareness of the participants during the movement sequences and

generate the perfect Somatic experience.





We have taught anatomy

to Yoga, Pilates, and Dance teachers, as well as other movement professionals

for decades.

Anatomy will be

an integral part of your toolkit as a teacher and facilitator of Somatic Awareness.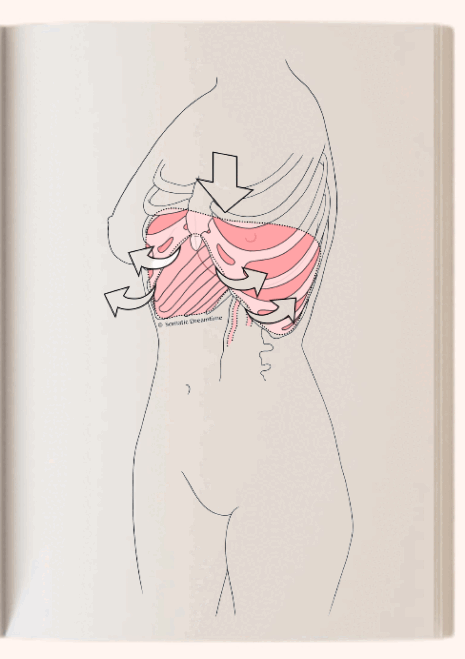 Testimonials:
What Clients & Students Say​
READY TO STEP INTO PROFOUND SOMATIC AWARENESS
AND A NEW LEVEL IN YOUR CONTRIBUTION?
6-week group journey begins Jan 7, 2024





Live ZOOM Sessions are on Sundays:




TIMES

(inlcuding breaks)


8.30-13.30 - San Francisco
11.30-16.30 - New York
16.30-21.30 - London
17.30-22.30 Madrid

7, 14, 21, 28 of JANUARY
4, 18 of FEBRUARY
2024

Investment: $ 1890 USD
Early Bird: $ 1650 USD
:: Early bird limited to 7 participants ::

Graduates receive an internationally accredited certificate

and

12

months unlimited access to all course material



WILL YOU JOIN THE SOMATIC ADVENTURE?